Scott Driscoll will be running a Surface Mount Soldering 101 workshop at the upcoming
Atlanta Mini Maker Faire
on October 6th.
We'll cover some basic techniques for soldering surface mount chips with
REGULAR IRONS!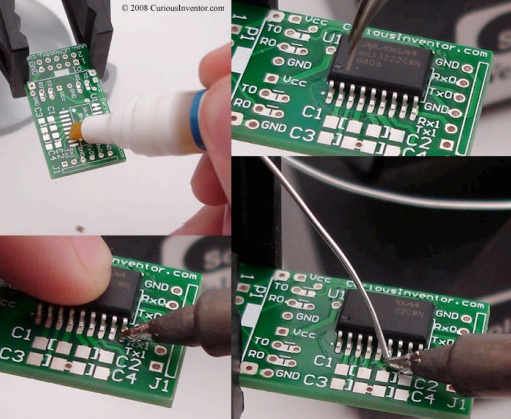 Things you'll learn
Flux makes SMT easy
Flood and wick method
How to fix bridges
All using regular shaped irons–no special micro tips required!
You'll be practicing on a small pcb with 1 SOIC and 4 1206 caps (the biggest and easiest SMT parts)
The following advanced techniques will also be demoed
Solder paste, inexpensive stencils and toaster ovens
Drag soldering for fine pitch and lots of pins
Removing SMT chips with hot air and ChipQuik
The cost will be $5 if you'd like parts to solder on, or free if you just want to watch and learn. Please register here (or below) so we can bring enough supplies and schedule multiple sessions if needed.
Also at the Maker Faire: Freeside (Atlanta's hackerspace) will also be doing a (free!) workshop to make a full fledged robot, and part of it will involve learning through-hole soldering.