Description
Spec sheet: here (ECS-2200BX-240)
This oscillator features a tri-state on/off switch that can be used to conserve power if the oscillator is not needed. Apply 0V to pin 1 to turn it off. An internal pull-up resistor keeps it on otherwise.
Consider using an oscillator socket for installation. Specially designed for the oscillator pins.
There are several different ways to provide a clock source, including crystals, oscillators, RC circuits, and resonators; this article gives a good comparison.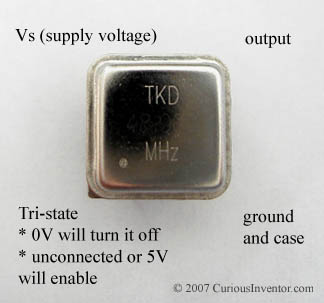 PPM (Parts per Million): This is like a percent error (1000 PPM = .1% error), and is convenient for calculating error with crystals. 5ppm on a 4MHz crystal = 5*4 = 20Hz possible error. Most microcontroller applications don't require too much accuracy, 100ppm is fine.